Cosmetic
Dr. Shootes-Miller offers a variety of cosmetic procedures to bring back your smile. Among these procedures tooth whitening is commonly asked for. Tooth whitening will help reduce stains and discolored teeth while lightening them. This will result in a brighter and whiter smile.

Be aware that tooth whitening does not work on exposed tooth roots or some restoration dentistry such as bridges and crowns. In addition to this all cavities in the mouth must be taken care of before this procedure in order to prevent the whitening process reaching the inner tooth and causing tooth sensitivity.
Whitening your teeth at home often involves using a custom fitted mouth guard into which a whitening solution is placed. These custom fitted mouth guards will help protect your gums from irritation that occurs while using ill-fitted over-the-counter whitening mouth pieces. After the solution is placed in the mouth guard, it is placed over the teeth and left on for a few hours or overnight depending on the type of whitening solution. Ask Dr. Shootes-Miller if home whitening is right for you.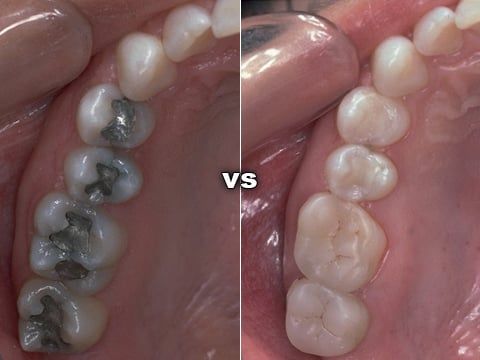 Composite fillings are today's modern filling choice. They are made to match your tooth's natural color to make them virtually invisible to notice and are placed onto the tooth by bonding the filling material to the tooth so they do not have the unlikely chance of falling off. Many patients choose to replace their old silver and gold fillings with composite fillings.
Other Benefits:
- Beautiful in appearance
- Completed in a single visit
- Form a strong seal
- Less chance of tooth cracking
Lumineers porcelain veneers offer the painless way to a permanently whiter and perfectly aligned smile. Lumineers are a contact lens-thin 'smile shapers' that are applied to teeth without any grinding or shaving of your natural teeth.

Lumineers transform teeth into a naturally beautiful appearing smile that looks perfect for every individual. Lumineers can even be placed over existing crown or bridgework without having to replace them.
BENEFITS:
- No shots
- No grinding away tooth structure
- Could be a reversible procedure
What is a dental Veneer?
A veneer procedure is a popular cosmetic procedure. Porcelain is known as one of the best materials for esthetic dental procedures, because it mimics tooth enamel very closely. Veneers are extremely thin (usually less than 0.5 mm thickness), giving them enamel-like translucency, creating a natural appearance. They are about as thick as a contact lens. There is very little tooth preparation before the veneer application.
Porcelain veneers are attached to your teeth using a dental bonding glue or cement. Although veneers are very thin, once bonded to your teeth they become strong. The process is fast and conservative. First, your teeth are prepared and impressions are sent to a dental laboratory along with the design for your new smile. Veneers may be recommended along with other cosmetic procedures in order to produce optimum results.
Veneer Procedure Steps:
Your teeth are cleaned so that only your natural tooth is exposed. Old surface restorations are removed.
In some cases the tooth is etched so the veneers will adhere more easily.
An impression is taken of the tooth area where the veneers are to be placed and sent to the lab for fabrication.
When the veneers are ready, your dentist will check the fit along with its future appearance, then permanently bond them to your teeth.
After the veneer is set, it is shaped and polished to look like a natural tooth and fall in line with surrounding teeth.
Veneer Procedure Benefits:
You can have your porcelain veneers and a beautiful new smile in as little as just two office visits!
Very little tooth alteration to your natural teeth and does not affect neighboring teeth.
Gap space between teeth can be closed without the use of braces.
Veneers can add tooth length to worn down teeth.
Veneers can add tooth shape and thickness.
Veneers can cover broken or chipped teeth so that they look like healthy normal teeth.
Veneers can renew the color of stained teeth.
There is no dark line at the base of the tooth like some dental crowns occasionally have.
The porcelain material is stain-resistant for lasting beauty and integrity.
Porcelain Veneers vs. Lumineers
Lumineers is a specific brand of porcelain veneers, which use a patented porcelain material known as Cerinate. They are even thinner than traditional veneers.
Lumineers require very little or no tooth reduction. They are a great choice if your teeth only need minor changes, to if they are set back slightly.
Traditional veneers may be a better choice if you are looking to make more dramatic changes.
A crown is sometimes termed a "cap" or "jacket." A crown will restore a large filling or a cracked tooth to its original size, shape and tooth color. A crown may be recommended after root canal therapy has been completed, as the tooth tends to become brittle and is more likely to fracture. A crown can strengthen and protect the remaining tooth structure and improves the appearance of your teeth. With the advances in technology, we now have the ability to make ceramic crowns with no metal.
To place a crown, your dentist must reduce 1-2 mm of the tooth to make room for it. Your dentist will then use a piece of thread or cord or use a laser to push the gum down around the tooth, to take an impression of the tooth. The impressions are sent to the lab where the crown is made. During that time, you will have a temporary crown. These crowns are usually made of plastic and are made in your dentist's office on the day of your visit. They are not meant to last. If a temporary crown is left in the mouth, the cement eventually washes out, and the tooth can decay. At a second visit, your dentist will remove the temporary crown and test the permanent one. Sometimes crowns need additional polishing, glaze or some other adjustment before they are placed. Once the crown is ready, it's cemented to your tooth.
The 'gold' standard. Dental gold is about 60% gold alloy which is meant to match the hardness of the enamel of opposing teeth so both wear about evenly, an important trait.Gold does not tarnish or corrode and has some bacterial inhibiting quality. Gold crowns are strong and will not break. However, gold crowns obviously are not considered esthetic; they are gold colored. So usually gold crowns are used for lower back molars because they don't show there.
This is most common type of crown and has a proven track record. PFM crowns are fairly aesthetic and they look like real teeth. However, the margins or borders may appear dark because PFM crowns have a metal substructure with layers of porcelain fired over the substructure. Porcelain is very hard, much harder than natural enamel and may cause excessive wear of the enamel of opposing teeth. Porcelain may break with extreme biting forces.
There is now new technology that allows you to replace old silver and gold fillings with a more natural looking, composite filling. Composite fillings are bonded to the tooth and research has proven them to be about 90% as strong and healthy as natural tooth material.
Other Benefits:
- Beautiful in appearance
- Completed in a single visit
- No filling leaks
- Less chance of tooth cracking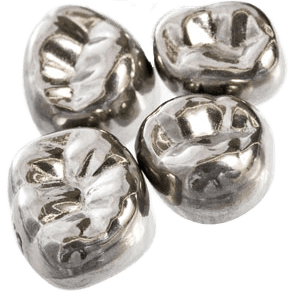 Stainless steel crowns, also known as 'silver crowns or caps', are a very common procedure used to restore 'baby teeth' (and occasionally permanent teeth) that have large caries or those that had a pulpotomy (baby root canal). Although most teeth can be filled with a white or silver filling material, stainless steel crowns are by far the most predictable and durable option to fix 'baby teeth' with large caries, large defects, or damaged enamel. This is particularly true in very young children that have caries at a young age, since it is preferred that the 'fixed' teeth last as long as possible.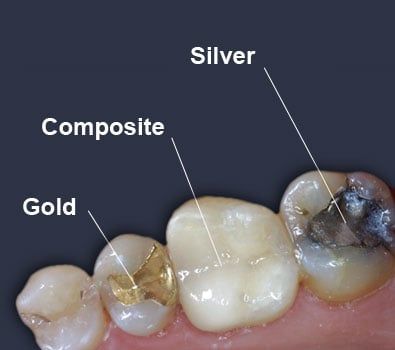 When a cavity needs to be filled, there are four choices in the filling material:

The most common is a composite filling, this is a natural tooth colored filling and bonds to the tooth for extra strength. There are also gold and silver fillings. Silver fillings are inexpensive and strong while gold fillings may look nicer and provide a better fit. The final option is a porcelain filling, also called an inlay, which is the most durable of fillings and is also the color of your natural teeth.

Ask Dr. Shootes-Miller, a cosmetic and restorative dentist in Albany, which filling would be best for you.
Xylitol is a sugar substitute that is derived primarily from forest and agricultural products. The dental benefits of using Xylitol to prevent caries were first recognized and published in 1975. Xylitol is available in many forms such as gums, mints, chewable lozenges, toothpastes, etc. The efficacy of these products varies depending on two critical aspects which are the amounts of Xylitol contained, and the frequency of use. We recommend that you consult with your dentist about Xylitol and its benefits towards your oral health.